"Everyone deserves to feel the confidence of a GREAT smile."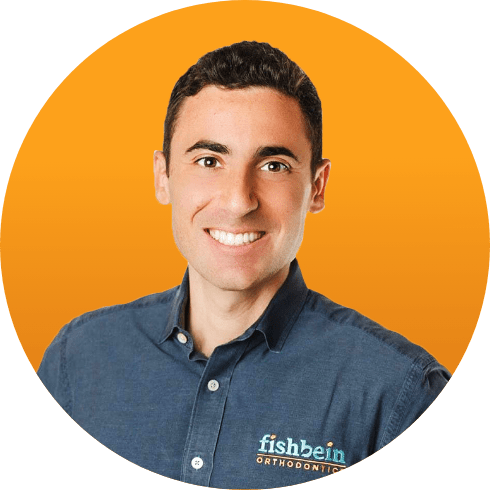 Dr. Ben Fishbein is the owner of Fishbein Orthodontics with eight locations surrounding Pensacola, Florida.
Dr. Fishbein serves as the official smile provider for the Pensacola Blue Wahoos – the minor league baseball team of the Miami Marlins. He also serves on the board of the EscaRosa Dental Society, and lectures at a number of orthodontic residency programs, dental societies, and orthodontic meetings.
Dr. Fishbein is proud to be recognized as Pensacola's 'Best Orthodontist' by both the Pensacola News Journal and Pensacola Independent News.
Dr. Fishbein is a Diamond Plus Provider of Invisalign, which is Invisalign's highest achievement. Dr. Fishbein is Northwest Florida's only Invisalign Diamond Plus Provider.
Besides Dr. Fishbein's board certification, his other awards include being featured as a "Winner" for his pro-bono work for Smiles Changes Lives, as well as his anti-bullying initiative through the Fishbein Foundation. Dr. Fishbein also holds an in-office course for orthodontists all around the world called Fishbein Fundamentals.
Dr. Ben Fishbein received his Doctorate of Dental Surgery from the University of Maryland School of Dentistry and earned his Certificate of Advanced Graduate Studies in Orthodontics from Jacksonville University School of Orthodontics.
Shortly after graduation, Dr. Fishbein received his Board Certification by submitting his final orthodontic results to the American Board of Orthodontics.
In addition to his expertise with traditional braces, Dr. Fishbein is also a provider of Invisalign and InBrace (behind the teeth braces).
Dr. Fishbein calls himself a "technology junkie", as he is always looking for the latest and greatest technology in order to improve the experience patients have in his office.
Voted Best Orthodontist in Pensacola Pensacola Independent News – inweekly
Voted Best Orthodontic Practice Pensacola News Journal
Presents at events nationwide on orthodontics and practice management.
Voted Best Orthodontist in Pensacola Pensacola Independent News – inweekly
Invisalign Diamond Plus Provider
Invisalign Diamond Plus Provider
Voted "Best Orthodontist in Pensacola"
in VIP Pensacola Magazine
• College of Diplomates – Board Certified Orthodontist
• American Association of Orthodontics
• Florida Dental Association
• EscaRosa Dental Society – Serves on the Board
• Okaloosa Dental Society American Dental Association
• Pensacola Young Professionals
• Board Certification – American Board of Orthodontics
• Invisalign – Diamond Plus Invisalign Provider –
Invisalign's highest achievement and Northwest
Florida's only orthodontist with this status
• InBrace (Behind the Teeth Braces)
• Laser Treatment
• Named the Official Smile Provider for the Pensacola Blue Wahoos Minor League Baseball Team
• Named the Official Smile Provider for the Pensacola Ice Flyers
• "Best of the Bay – Best Orthodontist" – Pensacola News Journal
• "Best of the Coast – Best Orthodontist" – Pensacola Independent News
• "Rising Star" – Pensacola Independent News
• "Winner" – Pensacola Independent News